Business Capability Mapping in Envision
Our customers have been using Envision to map business architecture and business processes for many years.  We have noted a trend towards linking these maps to a Business Capabilities Model.  Capability maps in Envision are gaining popularity because they provide a method to represent complex business environments so that they can be easily digested by executives.  The Envision 12 release includes a business capability template to speed up the creation of these capability models and linking them to the other disciplines in Envision.
One Customer used Envision Models including Capabilities to re-focus their business on their strengths and to let go activities where they were 'also-rans.'  The Customer is a household name across the USA whose profits have soared in the last decade.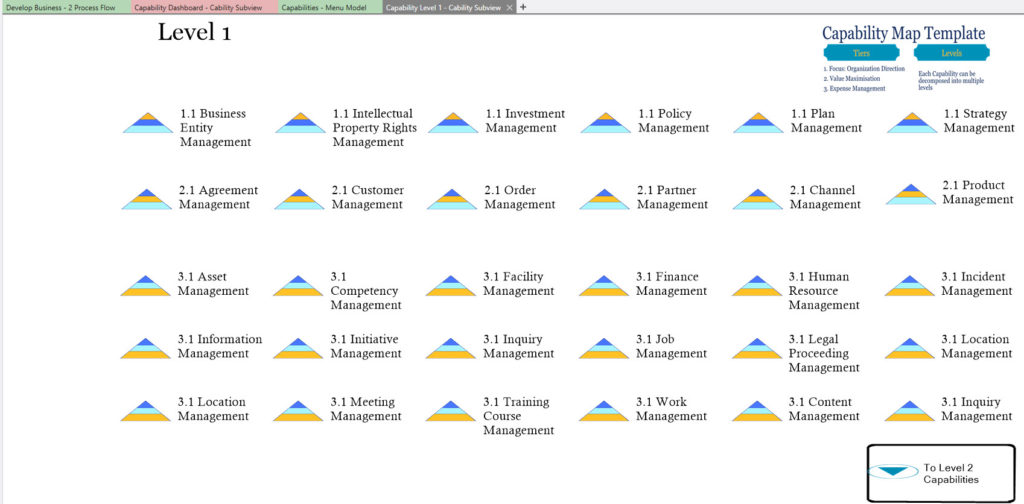 What is a Business Capability?
A business capability is what a business does. The Business Architecture Guild describes a capability as "a particular ability or capacity that a business may possess to achieve a specific purpose or output."   It does not express the 'where', 'why', or 'how'.
A capability is easily distinguished from other organizational pillars of activity by the fact it is expressed as a noun.  If something is expressed as a verb it is more likely to be a business process or a value stream.
'Provide Information Services to the business' is not a capability
'Information Management' is.
Information Management is defined as the "Ability to define, organize, structure, secure, protect, and disseminate facts, statistics, attributes, and other types of data about an organization's set of business objects."
.
Capability Mapping - Top Tips
All Capabilities have an owner and should be regularly assessed for maturity.
Capabilities are normally associated with Business Processes and must be linked to a Value Stream.
Most Capabilities can be decomposed into multiple levels. In our experience, the most successful models have 2 to 5 sublevels. 
Most Capability Models in Envision link capabilities to Risk, Operating Costs, Skills Registers, Quality Measurement as well as Activity or Business Processes
Capability Models can help identify redundancies and create tangible cost savings.  McKinsey reports that capability models can facilitate technology risk mitigation.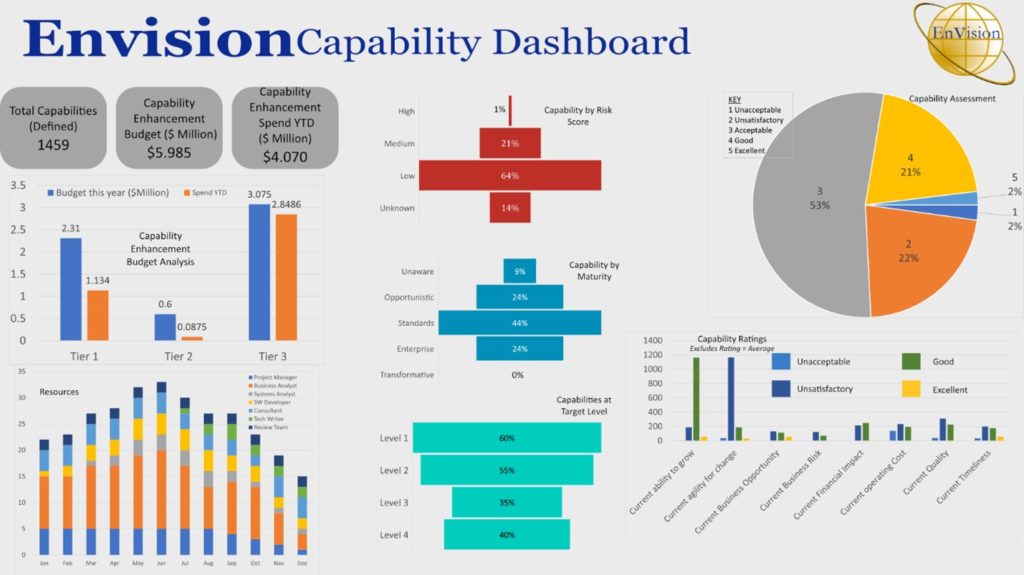 Business Capability Maps have a valuable role in the creation of a comprehensible multi-disciplined view of the organization.  They define what a business is currently doing and helps define the changes required to leverage future opportunities.  These maps deliver a common view across the organization and are a core asset enabling discussion and planning.  Most importantly, they link with other disciplines (BPM, BPMM, EA, IGOE, Customer Journey) in the Envision Repository, to create that Single Source of Truth to guide executives to be innovative and agile.