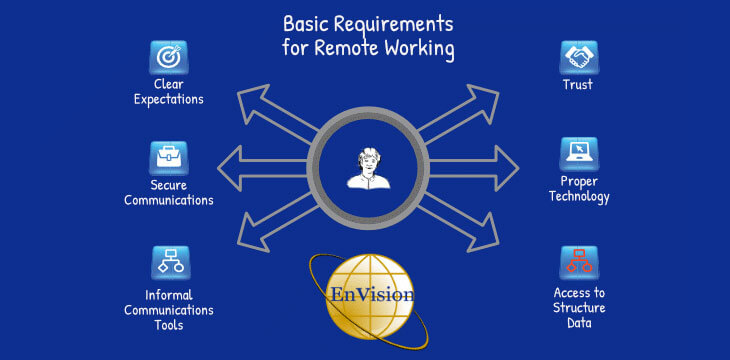 Business Analysts at Home
In previous years, there have been vigorous discussions about whether to corral business analysts into a center of excellence or embed them in operational departments. In 2020 we had a 100-year event, a pandemic, that caused organizations to make substantial changes very rapidly. Business Analysts suddenly became home workers. Now, some months on, organizations have to look at the arrangements for longer term. The issues are:
There are six basic requirements for successful home working for business professionals.
every member of the team should understand the goals and objectives at the organization, department, team, and individual levels. Every team member should understand the hierarchy of authority and know what is expected by the supervisor and vice versa.
trust entails risk, and there's no way to avoid it. This risk can be managed by starting small. In the early months of 2020 firms that allowed team members to take company equipment home without having to go through a lot of formal paperwork or red tape. That was a very good place to start. It sent a strong message that team members can be trusted. Trust has to be reciprocal and by taking turns with gradually increasing risks team members and managers can build a strong trusting environment. Trust is not only based on people but on roles. Robin Dawes, a psychologist who specializes in human judgement has observed: "we trust engineers because we trust engineering and that engineers (as individuals) have been taught to apply valid principles of engineering." Business and data analysts and enterprise architects would surely fit into this category.
A Computer, email, phone conferencing, access to internal networks are all the tools that employees need, whether they work from home or a public location. Remote workers normally provide their own desk and chair and the space in the home is rent-free for the firm. Its not uncommon for remote workers to use their own computer and smart phone in order to enjoy higher specs & performance. This requires trust and an audit to ensure the organization's data is secure.
Many organizations now require remote workers to use a secured Wi-Fi network. VPN is probably the most popular choice as it protects the IP address, location, search history as well as the application data that is being transmitted. Readily available secure socket technology, firewalls, and antivirus programs ensure that security is not a reason to prevent remote working.
Access to Structured data
We are in the era of big data and the value streams of all organizations depend on data or even big data. Currently between one and two zettabytes are produced annually (A zettabyte is a billion terabytes or a trillion gigabytes!). Business analysts have to have access to data subsets to understand their role in value streams in the organization. They also need to work with data analysts on any changes that may be required as business processes and business capabilities change. Business Analysts and Data Analysts normally share the same Business Object Portal in Envision. This means that Data Analysts can see the business role of data and Business Analysts can view the data sets associated with each business app and process.
Tools remote workers can find it hard to have those "water cooler moments" times when they strike up casual conversations and learn interesting things about other team members or provide valuable random input to their colleagues thought processes. Obviously, Teams, Skype, and Slack can support formal and informal meetings. But for business analysts perhaps process sandpits are the most valuable method of generating cross-disciplinary ideas to support innovation and creativity in process improvement. Envision enables members of different teams (BPM, capability, IT resources, HR, and governance) to view representations of the organization "as-is" and various iterations of "to-be." Users can make changes on separate layers which can then be reviewed by others. Some firms use light-weight graphics packages for the back-of-the-cigarette-packet stage of design. These diagrams can be shared and amended by anyone with access. At the end of the informal design activity, the diagram and linked data can be loaded into Envision and further developed with formal version control. Virtual sandpits & cigarette-packets open new creative pathways which can subsequently be viewed in a formal cross-disciplinary light.