Having trouble viewing. Click here
Envision® VIP offers an innovative & secure.
'Visual Information Portal' into your enterprise.
Discover new insights! Gain new understanding!
Realize new levels of information sharing, collaboration, analysis and reporting. All business and technical views are fully leveraged and maintained in a common secure Repository.
Link the best concepts from Zachman, TOGAF, DODAF, Systems Engineering, et. al. with your own unique environment.
read more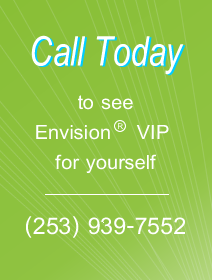 Solutions
All enterprises are unique. Enterprise Architecture must capture and leverage this uniqueness.
Synergistically sharing and fully leveraging this distinctive information is the key to future success.
Envision® VIP solutions offer new insights into Strategic Planning, Requirements Management, Auditing/Governance, Process Modeling, Risk Management, Systems Engineering, and much more. Customer-based Healthcare, Public Administration, Manufacturing, Retail, & Financial solutions can jump-start your own enterprise efforts.
read more

Better Visualize Your World
Our mission is to help you... Whether your challenges include Enterprise Architecture, Strategic Planning, Capabilities Modeling, Process Modeling, Risk Management, Requirements Management, Systems Engineering ... or particularly in putting the pieces together. We can help!
Read More

We invite you to talk with our customers. See how they have achieved new levels of control over their vital business assets. We stand ready to help you on this exciting path to better ...

"Envision your world!"
What people are saying...
"Organizations requiring a fully-configurable repository as a priority with strong collaboration requirements should consider Envision."
"I am very pleased to offer my full endorsement of Future Tech's Envision software as the tool of choice in documenting our business processes, our procedures, our internal controls and our risks"